Chattering monkey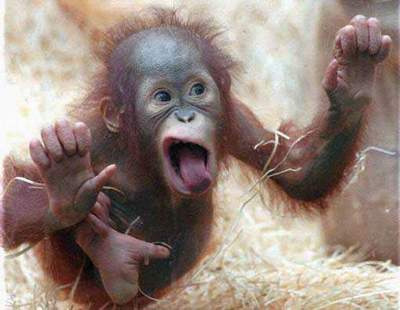 [1 minute self-development] The idea behind this blog (and my books) is that you can make a positive change in just one minute.
That ended up being particularly relevant for Julie. She was brilliant at talking herself out of doing things. For example, she was asked to give a 15 minute presentation to some colleagues.  She said yes, and then 'inner Julie' started up.  "What if you forget what you were supposed to say." "You might make a fool of yourself."
Something that works for many people is changing the space their internal voice occupies. It sounds weird, but my internal voice is just behind my right ear.  I don't know why.  It just is.
Where's yours?  Is it behind your head?  In your head?  Right in front of your face?  In one ear, or both?  Buddhists sometimes call it 'the chattering monkey' that sits on your shoulder and talks all day, and it's often not very helpful.
Work out where your internal voice is.
Wherever it is, imagine moving it to a completely different place, and push it away from you.  Put it behind you, or to the side, or anywhere different, and then push it away from your body.
Notice how it sounds when it is further away?  How much quieter does your internal voice sound?  And smaller?  Push it further away, and notice how that feels.
Julie moved her internal voice "behind a door".  When I asked her why she said that it sounded muffled and hard to hear when she shut the door.
Try it yourself - and get rid of that chattering monkey.
[simple_text_ad headline="LEARN NLP WITH TONY AND DR. STEPHEN SIMPSON" message="Finally learn NLP and hack your mind to focus better, think clearer, and (the biggie!) create extra time in your day. This course uses the skills of NLP to put down the tech and supercharge your focus. Use code TONY for 30% off" button_text="Find out more about unplugging" button_url="https://www.iwanttounplug.com/p/unplug-tech-distraction" button_color="#FC5E18" new_tab="true"]