Should more top sports stars wear orange?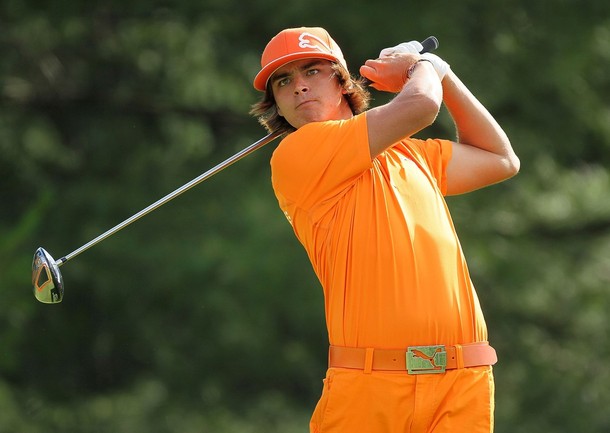 [1 minute self-development] Golfer Rickie Fowler sports stylish all-orange on the final day of a tournament. He wears it in honour of Oklahoma state university (where he studied). But is it possible that wearing the colour orange could give him a mental edge?
There's plenty of other examples of top sports stars wearing specific colours. Tiger Woods famously wears red on the final day of a major championship. And 4-time olympic gold medallist Michael Johnson ran in gold shoes. Which is clearly awesome, but not so cool if you don't actually win gold.
There's been lots of research into colour affecting psychology. And it does indeed seem what we wear can play a role in our mental state and the state of others. For instance, it's thought;
Red = power, strength, but also danger.
Blue = peaceful, relaxation.
Green = the colour of nature, calm, health.
Yellow = enhanced concentration and increased metabolism.
Orange = pleasure, fun and ambition.
It's clear from Rickie Fowler's interviews that by wearing orange, he does indeed start to have more fun on the course. The 23-year-old won his first tournament this year and says of fans copying his look,
"It's fun and it kind of shows you that they're having fun. They don't care what other people think. They're just out supporting and rocking the orange."
So next time you play, try wearing a different colour and see if it gives your game a little edge. Just be ready to put up with some mickey-taking if you turn up in all-orange.
[simple_text_ad headline="LEARN NLP WITH TONY AND DR. STEPHEN SIMPSON" message="Finally learn NLP and hack your mind to focus better, think clearer, and (the biggie!) create extra time in your day. This course uses the skills of NLP to put down the tech and supercharge your focus. Use code TONY for 30% off" button_text="Find out more about unplugging" button_url="https://www.iwanttounplug.com/p/unplug-tech-distraction" button_color="#FC5E18" new_tab="true"]